Introducing Business Energetics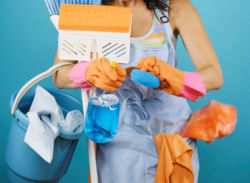 I was watching the film Mamma Mia yesterday and was amused by a plot feature that came up. It reminded me of how in recent years I've been doing EFT on business issues in an innovative way. At key moments in the film the Greek chorus would come forward and highlight a personal insight one of the main characters was seeing for themselves. The chorus offered honest commentary, support and even fun. This reminded me of the wisdom role that our ancestors plays in Business Energetics.
by Sejual Shah
Business Energetics is a combination of EFT and an adaptation of a German psychotherapy tool called Family Constellations. Over the last two years Paul Zelizer and I have co-created a method of tapping into the wisdom flowing through businesses to identify where a challenge stems from. This wisdom comes from the client rather than the therapist.

Traditionally in EFT we would tap on the worry about client flow, the procrastination in doing marketing and so on. This 'fix the problem' approach works. However, it also feels incomplete as it misses out the growth potential of where we want to go. Businesses grow easily where they're accompanied by an expansive vision of what we want more of, rather than just looking behind at what went wrong.

The fix the problem approach also ignores the most important component of any business or career – nurturing healthy relationships. In Business Energetics we draw a simple map of relationships involving you and others. By looking at the map we can identify where a relationship is tangled. It is then easy to use ordinary EFT to evolve this situation. Here's an example of Business Energetics at work.

'Helen' runs a professional cleaning business. Her staff go in to clean homes on a regular basis. She kept changing the image of the business for a variety of reasons. She couldn't settle on a neat way of packaging her business, and the marketing costs over time were costing her profits from her work. She felt she couldn't settle into growing the business with the changing identity. We spoke briefly about relevant relationships in her life.

We set up a constellation for this issue – a simple map of relevant relationships. We brought in the energy of her business and her husband. Through silent conversations she had with each of these elements she realised that she was trying to compensate in her business for the fears she had in her marriage. She was worried that if she didn't work then her husband would think the less of her. He worked long hours in his career and she realised that she wanted his approval. So she kept changing the way the business looked to be able to present it in a way he would think of as successful. We tapped on the wisdom that had come up.
Even though I feel the need for his approval in my work, I soothe and comfort myself
Even though I feel less than him in my work, maybe that's me judging myself and that's ok
Even though I thought he had the answers about my business success, what if it's in me already?
We worked on aspects of her upbringing as well, including how her father had treated her mother as a housewife while he was the important bread-winner. Helen's parents are no longer alive, but we could still draw on their knowledge in a constellation. As Helen shifted her perception of her identity over three sessions, she started to get a clearer vision of her own business skill.

The voice that came through in her business was more confident. She finalised the marketing for her business and focused on attracting clients. She was converting 25% more leads into ongoing business than before because she was focused on the service she was offering. Moreover, she started experiencing a more satisfying relationship with her husband as she felt his equal.

When we unleash our business wisdom we leverage a powerful resource – the support of our loved ones who are seen and unseen in our businesses. Business Energetics is a way to nurture a vision for business growth using this powerful resource.

Sejual Shah is the co-founder of Business Energetics. She helps business people with career growth and confidence issues and has pioneered ways of taking EFT into companies since 2008. She is running a virtual retreat on Saturday 5 February with Paul Zelizer on Building Momentum: Increasing Profits, Meaning and Ease Through Business Energetics.
Visit her website for further information on Business Energetics