Start up check-list for practitioners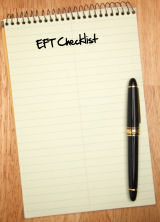 by Rangana Choudhuri
Recently I have been facilitating sessions for practitioners in start up mode. This prompted me to write a start-up check list that I would like to share.
Decide on the business niche
what is going to be offered
what is a client going to purchase?
High-level business plan – vision, objectives (financial goals), strategy and tactics
Decide on sole trader versus limited company. For practitioners sole trader is a much easier route at the start. As the business grows limited company may be more preferable
Company name versus trading under self-name
Trade mark registration
Marketing plan – product/service, price, promotion, place (where will the service be offered), proof (evidence, associations and testimonials/case studies), personal development
Market Research on services being offered. Ask your target audience whether they are interested in your services and if they would be interested at purchasing them and if yes, at what price.
Inform HMRC on self-employed status – only for sole traders. Register with Companies House for limited companies
Professional insurance – holistic insurers provide good rates. If insurance in USA and Canada is required I recommend Howden Insurers. For links visit my website
Accounting requirements – get a good accountant to submit your annual returns.
Banking requirements – open a bank account specific to your business activities
Legal requirements
Grants available – see Business Link
Business Link registration
Projected income and budget
Detailed business plan, if any investment is needed
Decide on branding requirements
Name – identity
Logo
Tag-line
Values
Business message
Develop marketing materials
Website
Business card
Leaflet
Postcards
Appointment letters
Develop plan to make people aware of your service
Databases
Word of mouth
Networking groups – one minute pitch
Whether or not to advertise
Develop a plan to get people interested in your service
Providing information – books to read (for example, Journey), Youtube links, and so on
FREE introductions/talks
Develop your own story
Testimonials
Referrals
Develop a plan to have satisfied customers
Referral system
Loyalty
Guarantee
Follow-up plan
Home-work
Take home cards
IT system needed
Book-keeping – cash in and cash out
Appointment calendar and process
Computer
Printer
Audio recorder
DVD/CD
Data protection act
Capital requirements
Furniture – desk/table
Computer
Shelves
Cabinet to securely store client records
Projecter
White-board
Flip chart
Continuing education
Supervision
Training
Annual case studies
Resources/suppliers to consider
Business coach/mentor
Accountant
Lawyer
Web designer
Insurance company
Copywriter
Graphic design
Printing marketing materials
Computer as well as basic office suite
Networking groups
Venues to give talks
Consulting rooms
Satisfied client's
Friends and family
Image – how to present oneself
Office/therapy room – candles, aromatherapy, space clearing, clean coverings
Books to give away.
If you have any questions or suggestions about this list please contact Rangana Choudhuri at