SELF HELP (Homework) for clients and yourSELF: Make it inspiring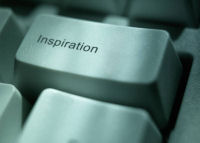 In the second of a series of articles for practitioners, regular EmotionalBuzz contributor Ranjana Appoo discusses how practitioners can do home work that helps both them and their clients.
by Ranjana Appoo
"The search for contentment is not merely a self-preserving and self-benefitting act, but also a generous gift to the world. Clearing out all your misery gets you out of the way. You cease being an obstacle, not only to yourself but anyone else. Only then you are free to serve and enjoy other people,"
Elizabeth Gilbert, Eat, Pray, Love
For me, practising SELF help is not just about healing pain but about finding the deep contentment of knowing who we are and our intimate yet divine connection to the world around us. I see SELF help as synonymous with SELF knowledge. To KNOW mySELF is to HELP mySELF and vice versa. A favourite self help tool of mine is using inspiring phrases, quotes or sentences for 28 days or more. Below I have shared three of my favourite quotes, and each time I used one of these for a month I made a huge shift.

My clients always report astonishing results after this one simple easy to follow exercise. I remember one client who booked sessions with me on a monthly basis, diligently practised SELF help especially the 'I love myself' one below. She reported dramatic changes in the month, the most startling being that she forgave someone that she never ever believed she could.

Every time I see a client one of the first things I do is check what they are doing for SELF help. My reasoning for this is, if they are not doing this then the chances of them depending on me for change and help are quite high and I really do not want to encourage that. It is important for me that the client is empowered and in charge of their own healing process. So I make this very clear to them. Providing SELF help tools is a great step in that direction.

So without further ado here are three favourite SELF help inspirational tapping sequences. Simply tap or imagine tapping on the points as you say these words. Try any one of them for a month and notice if it makes a difference.

This first one was written by Ruth Fox, who will be presenting at the EFT Gathering North 2011.
Karate chop: I acknowledge the possibility
Eyebrow: that the apparently impossible
Side of eye: may become possible
Under eye: in ways that I cannot imagine right now
Under nose: and I acknowledge that it may happen
Chin: in unexpected ways
Collarbone: and that it could come about much more quickly than I ever thought it could
Underarm: and that it could just surprise me
Top of head: and bring me incredible excitement, peace and joy when I see it unfolding.
The next one is well known for being read by Nelson Mandela. It is from Marianne Williamson's Return to Love. Prepare to shine after this one.
Our greatest fear is not that we are inadequate (eyebrow)
Our deepest fear is that we are powerful beyond measure (side eye)
It is our light not our darkness that most frightens us (under eye)
We ask ourselves: "who am I to be brilliant, gorgeous, talented, and fabulous?" (under nose)
Actually, who are you not to be? (chin)
You are a child of God (collar bone)
Your playing small doesn't serve the world (under arm)
There is nothing enlightened about shrinking so that other people won't feel insecure around you (head)
We were born to make manifest the glory of God within us (eyebrow)
It is not just in some of us (side of eye) it is in every one (under eye)
And as we let our own light shine (under nose)
We unconsciously give other people (chin)
Permission to do the same (collarbone)
As we are liberated from our own fear (under arm)
Our presence automatically liberates others (head)
The last one is I Love Myself Just the Way I Am, a song of affirmation by Jai Josefs. It is an incredibly empowering tapping sequence. When I began tapping with this, the results were phenomenal. I felt lighter, kinder and so much more at peace with everything in a very dynamic way. The feeling has never gone away.
Eyebrow: I love myself the way I am
Side of eye: there's nothing I need to change
Under eye: I'll always be the perfect me
Under nose: there's nothing to rearrange
Chin point: I'm beautiful and capable
Collarbone: of being the best me I can
Under arm: and I love myself
Top of head: just the way I am
Eyebrow: I love you the way you are
Side of eye: there's nothing you need to do
Under eye: when I feel the love inside of me
Under nose: it's easy to love you
Chin point: behind your fears, your rage and tears
Collarbone: I see your shining star
Under arm: and I love you
Top of head: just the way you are
Eyebrow: I love the world the way it is
Side of eye: and I can clearly see
Under eye: that all the things I judge are done
Under nose: by people just like me
Chin point: so until the birth of peace on Earth
Collarbone: that only love can bring
Under arm: I will help it grow
Top of head: by loving everything
Eyebrow: I love myself the way I am
Side of eye: and still I want to grow
Under eye: for change inside can only come
Under nose: when deep inside I know
Chin point: I'm beautiful and capable
Collarbone: of being the best me I can
Under arm: and I love myself
Top of head: just the way I am
I hope this inspires you.

Ranjana Appoo
The Emotional Health Centre
Co-creator of LiberatingTouch-EFT and The Emotional Toothbrush Series