Releasing the freeze response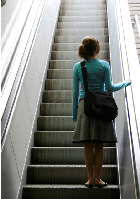 Trish Moran recounts an amazing experience she had using EFT with a client.
by Trish Moran
While attending a workshop with Carol Look earlier last year, I learned about the freeze response and how a trauma can be downloaded into our bodies and how we can release it.

Mary came to me because she has been having difficulties with her ex-husband. Although they have been separated for about fifteen years, their divorce case only came up during the past summer because he has been so difficult to deal with all along. In court, he agreed to buy her house and offered a certain sum of money. She agreed to this and a date was set for her to move out of her house, and for him to pay her the money. That date unfortunately came and went without him honouring his side of the deal. In the meantime, she had put a down payment on the house of her dreams, and now it all seemed as if it was slipping away from her.

When she came to me, Mary was overwhelmed with sadness and a sense of falling in to a hole, but she couldn't allow herself to go into that hole or she felt she would die. This was a very real fear for her, one she has experienced many times in her life, but yet she knew that she needed to experience the hole, or she would always live in fear.

As we talked about her story, she said two things that I picked up on. One was that "Martin will never let me move on" and "He'll leave me with nothing".

So I asked her about what happened when they actually split up. She said he told her "You'll end up with nothing". This very harrowing scene took place in front of her three small children who were huddled up in bed alongside her. We started tapping on the 10 levels of sadness that was coming up for her as she saw their little faces all over again. The sadness interchanged with guilt, so we tapped on both. I tapped on her directly as she was so overwhelmed with sadness.

As we tapped, her legs started shaking and she felt very cold. I explained a little about the freeze response, and what was happening to her body. I wrapped a shawl around her and continued to tap on all the aspects that were coming up, including the look on the children's faces, how vicious he looked. By now she had started to flop over, and at one point, I feared she might pass out. But I decided to trust the process, as I felt that she was discharging the freeze response from that trauma.

I continued to tap on her using phrases such as "you're safe now", "your body knows what it is doing", and I asked her if Archangel Michael was her protector, and when she said he was, I also used phrases such as "you're safe, Archangel Michael is protecting you, he has his arms wrapped around you", "you're doing well". She continued to look as if she might pass out at any minute, flopping over, moaning and then she sounded as if she might throw up. When I asked her she insisted she wasn't going to throw up, but kept coughing into tissues as if she was coughing something up and spitting it out.

Twice during this process, she seemed to dissociate from the experience. As I continued to tap on her I introduced the idea that he couldn't take anything away from her, that she had so much – the love of her children, many friends, integrity, spiritual connection – in fact, all the things that her husband doesn't have. I mentioned that the courts would decide what she would get, not him. And then tapped on taking back her power. She continued to shake, and flop and moan and cough. Then after about an hour, all the sadness and guilt and fear were tapped away, and her colour returned to normal, she stopped flopping, shaking, moaning and felt warmer. But her face had gone so numb, she couldn't articulate words properly. So we tapped on "Even though my face feels numb...", and before the third repetition of this set-up the numbness was gone.

By now, Mary was absolutely amazed at what had taken place, and felt that she was safe now. She felt that she had finally gone into the hole, she hadn't died, she had come out of it again and she wasn't afraid anymore. She felt much more powerful and in control.

When I spoke to her the next day, she continued to thank me profusely and said that she was absolutely amazed at what had taken place, and felt that it was about far more than the incident we had tapped on. She felt that it had been about similar issues from her own childhood, and maybe even before she was actually born, as she believes she was afraid in the womb and didn't want to be born. She described the experience as a kind of rebirthing and also an exorcism. She felt that something was coming up that she needed to expel – hence all the coughing and spitting into tissues.

I spoke with her again two months later, and the feeling of having offloaded something huge has stayed with her. She told me that she is doing things now, like dealing with the solicitors, and she's not afraid, where she would have been in the past. She also told me that a couple of times during the process, she was worried that I would be afraid of what was happening and those were probably the times I felt her dissociate. But we both trusted the process and each other, and shared a truly miraculous experience. I am honoured that Mary and others trust me with their very vulnerable feelings.
Hello,

My name is Mary, and this is an account of a wonderful result I had with EFT in a session with Trish Moran. I had worked with Trish before with other issues I had and I could not believe how it helped me. It is important to say here that I feel totally safe with Trish and trusted her fully to help with the process.

I had recently divorced even though I was separated for fifteen years. It was still very acrimonious. He agreed in court to buy my share of family home and was supposed to pay before a certain date. The date came and went and he never deposited the money. This left me feeling totally deflated and upset. It was at this time I asked Trish to help.

When we began our session we spoke about how hopeless and helpless this situation had made me feel. As we talked a memory began to emerge. It was something that my ex-husband said to me the night we split up. He said that by the time he was finished with me, he would leave me with nothing. At some level I took this on board and worked out of that assumption. So I believed he would not let me get on with my life, and would sabotage any plans I had for my future. Also I could remember the fear on our three children's faces when he said this. I felt guilty about that.

I started tapping on this and very soon I started to feel very cold and started to shake. Trish tapped for me when I couldn't and reassured me that I was safe. I had this familiar feeling that I was falling down a hole, but I knew I had to keep going with this if I ever wanted to get rid of it. Once or twice I could feel I was shutting myself down because I was so frightened. All the time Trish was explaining what was happening to my body and that I was safe. As we processed with this, my body felt totally weak and I started to cough. Also my face started to go numb. Trish continued to tap when I could not speak as my mouth felt distorted. I was crying by now and I thought I was going to pass out. Trish continued to talk, reassure and tap me through this and after what seemed like fifteen minutes (I now know was much longer), I started to feel warmer and the sadness started to lift. It took a while before the numbness in my face began to leave, so we tapped on that.

When Trish asked me to tell her the story again, I was amazed that I didn't feel any sadness or despair. It felt like something had been lifted from me and I felt great. I had gone into the hole and it didn't kill me which had always been my fear. When I thought about it later, the only way of describing it was exorcism. I feel much calmer in myself. It is hard to believe that I got rid of such huge fear in the space of about two hours. How wonderful is that! I will be forever indebted to Trish for introducing me to EFT. This is a couple of weeks later and I am still feeling good. I continue to tap on myself on anything that bothers me. It is such a great tool to have.

Many thanks,

Mary
3/12/2009
Trish Moran
Website: www.thrivewitheft.com