The EFT Gathering, Ilkley, January 2009 – an eavesdropper's report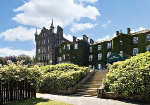 Before the EFT gathering there was already a buzz about it within the EFT community. For some the buzz was about learning more from other people, meeting old friends and making new connections. Some came with questions...
Would it really connect EFTers around the UK? Would it help strengthen and build the AAMET? Would it bring together so many who have been promoting and working with EFT in relative isolation in their communities out onto the stage? Would we discover that we have already begun to build inroads into the NHS? Would we be able to let go of all our different opinions and focus on our similarities, our passion for sharing EFT? Can EFT be considered to be a stand-alone therapy? Can the changes to the AAMET guidelines encourage and help:
clients trust the AAMET listing to find the perfect practitioner for them
the students who want to learn EFT discover that they are learning from professionals and are covering a comprehensive syllabus
practitioners to feel supported and part of a dedicated community
trainers to share their passion and inspire trainees?
Are we willing to support each other with time and our unique resources? Strengthen the foundations that have been laid down by supporting each other? Do we have the dedication to do this?

The Gathering not only fulfilled this, it did so much more. It got EFT practitioners talking and sharing, opening doors, coming out of their comfort zones, making connections, experiencing each others' viewpoints, tapping for the community, becoming aware of the role of the AAMET, encouraging everybody with possibilities and probabilities and discovering even more ways to use EFT.

We were dismantling blocks, getting new ideas and growing. Thank you, Gwyneth for organising this.

It's finally happening; EFTers are joining forces to take EFT into the future.

As I wrote this report I toyed with a few headings: EFT - the next generation, to go where no one has been before; EFT: coming to the Crossroads – where to now? The EFT Gathering, creating new horizons; The EFT Gathering, travelling up the healing high rise, and so on.

All of them would have been accurate. I chose 'an eavesdropper's report', because I loved the breaks, moving around the room listening in to what others were saying, their excitement, their concerns, their wants and little morsels of "you know what?" It was a feast of interaction.

The Gathering started with an introduction from organiser Gwyneth Moss: "This is real, you are all real, finally here you are."

She then continued to describe how she had often visualised us all sitting there and now we were REAL. This resonated with me especially as it was quite amazing to be in a room with more than 100 dedicated EFTers. We could dispense with the details and get to what mattered to us.

I also loved the format of the different presentations; it was like being at an EFT banquet. In the first 15 minutes we shared the vibration of Gratitude by acknowledging Tam and all that he has done to sustain the AAMET. As the day progressed it became clear that the AAMET was an association of like minded energy therapists and at this moment in time it needs its members to come together, to share resources of time, energy, skill, to take it to the next stage. More information about this appears on the AAMET website.

There were 20 presenters. We could not be at every presentation as some were breakout sessions, and all the presenters stuck to their time slot with precision.

So which ones really stood out? What did people say? Which ones were the favourite? Well, below are some of the comments I overheard at the breaks, in the ladies room or at lunch. As my notes are scribbles and some not quite legible I have paraphrased while staying true to the feeling that I picked up.

To find out more about what they presented visit www.eftevents.com/gathering2.htm. The presenters are all really easy to speak to, so call them or email them if you want to find out more. I think most of them will also do a specialised presentation in your local area if you get six or more people together, so do check with them.

About Linda Wood: Linda was really inspiring. I think I will start a weight loss group...it feels really easy now...she cleared up so much for me...now I don't feel that I have to have the perfect body first...her use of the weight line was amazing she made it so simple and clear...

About Christine Sutton and Philip Davis: what they said really helps me explain things to my client better...it will make it very easy for my clients to see their progress now...they are such a genuine and warm couple...they made me feel safe and understood my needs...

About Diane Holliday: I 't sure what was happening there but it all magically cleared...she just leads her client through a huge amount of stuff and it shifted big...that was very powerful...she demonstrated that EFT can really be used in the most difficult situations and can lead a client out of it...

About Martine Moorby: I would have been happy to just sit and listen to her for another three hours...she was compelling and she shone with joy...she has inspired me...she makes me feel really good and capable…I use surrogate tapping a lot yet when she spoke it answered so many questions for me...

About The NHS breakout presenters:
John Bullough: he is so adorable...he is gentle and caring...he is the lynch pin...his words are clear and concise...he is practical and sensible...I like the way he led the NHS breakout...he plays a vital role in the EFT community and brings everyone together with diplomacy and ease
Helen Richardson: she is incredible...what a joy to speak someone who works within the NHS
Lottie Taylor: she was so centred and clear...I loved the way she spoke completely from her heart...they make me feel hopeful...
What became clear during this breakout is that inroads are being made into the NHS and there is resistance but there is also a demand which is crying out to be met. Language plays an important factor and the attendees were urged to use their language with care while approaching those in the medical profession and avoid making claims of miracle healings and such but to be more circumspect and discuss EFT in terms of stress management, minor trauma relief, phobias, pain management, which builds bridges instead of burning them.

Professionalism with humility is of course expected at all times. It was good to hear from doctors and nurses with regard to their concerns about EFT and to see that it is quite possible to get EFT into the mainstream. One of the tips shared was to approach your local pharmacy that sells complementary remedies and also local health charities as they are often open to EFT.

About Margaret Abraham: she is incredible… working with people who are really in need...I loved that she said the universe is working for her...I am going to use all her ideas...she made me realise that I, too, have so much knowledge and can make my own success recipes...

About Alan Morrison: he was very clear...I didn't think that I had such a big cord...what a great way of looking at things...he gave me a deeper perspective of what is going on in my life with my relationships...I love how he used EFT with the cord-cutting ritual and will try this later...

About Liz Kursopp: she was so warm and candid...she shared her ideas and the difficulties she faced with humour...I would love to work with her...her team is really lucky...imagine the NHS filled with nurses like her...she is amazing and inspiring...

About Karin Davidson: she was amazing, I loved her take on intuition...it was so good to have someone speak about the things that I experience...she was so natural...so much of being a good EFT practitioner is intuition and her presentation made me understand this better...

About Gilian Wightman: she is so courageous...I loved her talk, she was so honest and real...her talk really put EFT in context by her own powerful personal experience...she reminded me that so many EFT practitioners have deep personal journeys...she made me realise how important this gathering is...

About Ranjana Appoo: as this was my presentation I found it hard to eavesdrop, so I will share what one of the attendees said to me, I don't normally visualise, but during the visual exercise I saw that each EFT practitioner was like a lighthouse...with light beams connecting to each other and going out into the world and entering the hearts of people...

About Dave Wharton: he was great...I really enjoyed the guided meditation and did not want to come out of it...I would love to know more about the role of the senses through the different levels...I enjoyed his clarity...he connected a lot of pieces up for me...he made it so easy to visualise...

About the presenters of the Depression Recovery with EFT, June Spencer, Yolande Armstrong: that was a brilliant presentation...it reinforced how many tools I already have with EFT, I am going to go back and revisit my training notes...they reminded me that there are so many ways to get results with EFT...they were inspiring...

About Frances Songhurst: I loved her humour...she was so funny and serious and gentle all at once...I would love to work with her...I enjoyed it when she spoke of her Paul Mckenna experience...she reminded me that EFT is so much fun and how easy it is to laugh with EFT...

About Anne Grey: she is so passionate...the correlation of EFT and homeopathy was very interesting...she reminded me about the importance of an inner practice...she seemed to be dancing with joy...I loved her heartfelt presentation...

About Dr KT Birinder: she was incredibly inspiring and healing...imagine an NHS with doctors like her...integrative medicine is the way forward...she made me realise that I want to create and have an integrative practice...she was rational and sensible and loving and open all at the same time...

And of course there were two AAMET Training Panel leaders, John Bullough and June Spencer, who got everyone thinking about their role in the AAMET. At the trainers meeting, we agreed that we needed to get together regularly to discuss trainings, share ideas and our training methods and learn from each other. I missed the open mike session as the snow began to fall heavily...white blessings on a beautiful weekend.

What so many of the presenters reiterated each in their own unique way, was that, we are powerful spiritual beings and to own this is life changing. It is important to encourage others and even if people don't tap just being with others who tap helps.

So at the end of this report I ask, is it going to be another seminar, where all the enthusiasm and dedication peters out after a while? I hope not. I hope that the momentum that the EFT community has built at the Gathering will keep growing. I discovered that there were many EFTers that I would like to do future collaborations with and that in this climate of economic change there is an even greater demand for EFT. For the EFT community it is a time for growth. Investing time, energy, loving care and support in the EFT community will pay huge dividends. It will ensure us growing as a community and make EFT a recognised and respected stand-alone therapy.

Another phrase I kept hearing all weekend was, EFT is the key to the future, it brings everything together, and it is playing a vital role in the shift in consciousness of our planet… Having heard other practitioners from other health care modalities rave about their own therapy, I did not want to become evangelical myself, however these words continued to echo in me. I thought, hmmm, EFT can be easily incorporated into any therapy. I know doctors, scientists, engineers, artists, teachers - people from all walks of life drawn to it. It attracts both left brain and right brain types, men and women, spiritual and non-spiritual...and even if they don't use EFT and know someone who does or is in the same room as someone who does.

I leave you with this, even though I do not actually believe in my amazing potential or anybody's infinite potential, what if I did? Do I dare allow myself to believe that I am or they are gifted, talented, amazing? That I have something of great value to share, to receive? That we are loving, loveable and loved?

Wishes of Fun Tapping into the Infinite…

Ranjana Appoo