EFT works for weight loss when diets often won't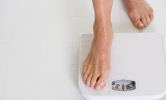 New Year weight-loss programmes are big business! I've been studying the market for a while now and keep coming to the same conclusion - any given diet will only work for certain people long term. If they don't have many deeply-ingrained negative beliefs around food and their body then they possibly will keep the weight off. I know one or two people like this - but they are few and far between.
Why would a diet work for some and not for others? Because one size (or diet) doesn't fit all. Not every body type is suited to the same food. For example, following the Ayurveda principle, eating more broccoli, cabbage and cauliflower in your diet wouldn't be recommended if your constitution is mainly Vata dosha (thin boned) even though these vegetables are classed as health foods. The reason for this is that they produce gas and bloating and will aggravate your dosha.
How many of us have given up chocolate and swore we would never touch another piece, only to tuck into a whole bar at the first signs of stress?

This is where EFT can help. It allows us to understand our negative beliefs around food and how we think about our bodies. It also gets rid of the anxiety we feel before we dive into a box of chocolates or take the packet of biscuits out of the cupboard.

EFT is such a handy tool to have around when we feel stressed because the tapping really does work. The biscuits stay in the cupboard and the chocolate in the chocolate aisle of your local supermarket!